Last updated on December 1st, 2022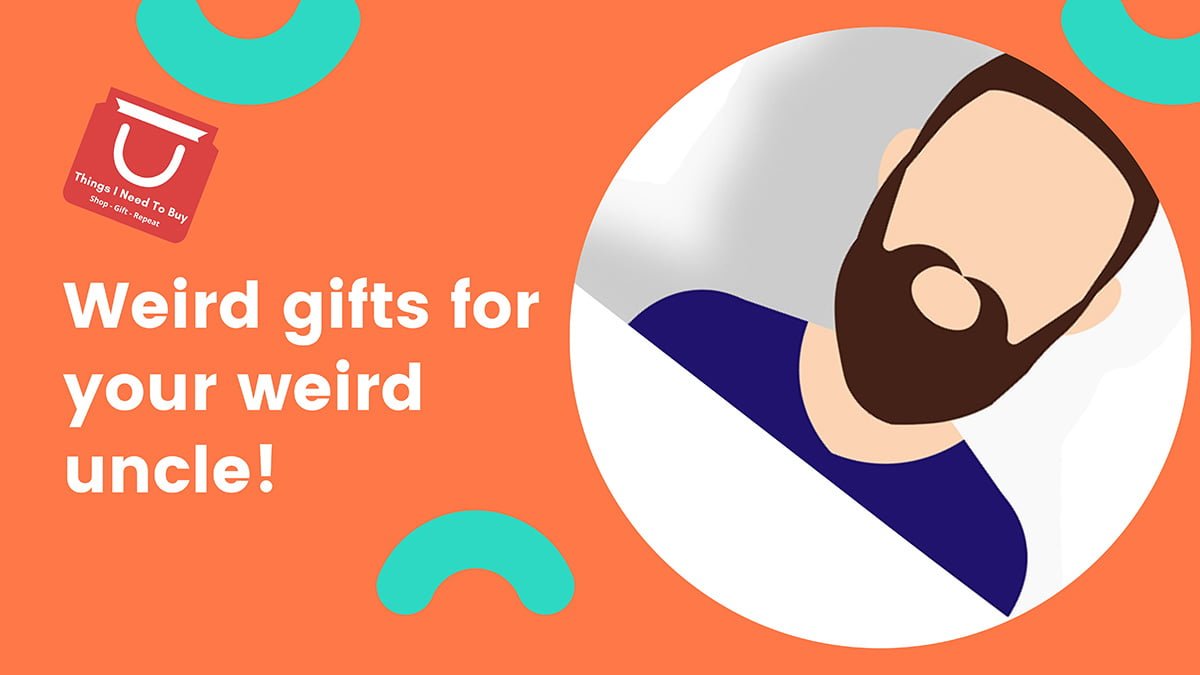 We all have that one weird uncle in our families whom we adore. It's hard to find gifts for this uncle as his fetishes are different than usual.
If you are searching for the best & the weirdest gifts for your weird uncle, then you have found the perfect article!
These gifts range from a 3D waist bag with a human belly design to beer making kit. Keep reading the top 15 weird gifts for your weird uncle.
[Related: What To Get As A Birthday Gift For 90 Year Old Man? and Gifts for 80 Year Old Man: 28 Unique, Cool, and Useful Gift Ideas]
Weird Gift Ideas for Your Weird Uncle
If your weird uncle is into sports and loves to spend his free afternoons in the stadium, then this lightweight & portable stadium seat is the best thing you can buy for him.
This seat will ensure your uncle's utmost comfort during NFL & Baseball games. The seating cushion & back support are super thickly padded & fireproof. This seat features two pockets to conveniently store all the belongings and non-slip rubber strips to prevent from falling.
This heated foot massager is for those uncles who love spa-quality foot massages. A foot massager is indeed a weird thing to gift your uncle. Nonetheless, your quirky uncle will surely love it. This foot massager provides professional-quality deep tissue shiatsu massage. This ergonomically designed foot massager features three different modes, three different intensity levels, & other customizable options. The foot massager mimics human hand feeling to provide ultimate comfort.
Star Trek oven mitts are here to help your uncle step up from the typical boring oven mitts. The chances are high that your uncle loves Star Trek & the famous character, Dr. Spock. The oven mitt looks like the hand of Spock with the infamous Vulcan salutation. The motto of this oven mitt is- Live Long and Don't Burn Your Hands. This weird & funny oven mitt will give your uncle a good laugh every time he cooks.
This best-seller beer brewing kit is perfect for all weird uncles who love to drink beers. Now your uncle can brew his own beer with this kit. It is designed for beginners and features step-by-step instructions. Your uncle will start making beers with easy to use brewing equipment, hopped malt extracts & other simple ingredients in under 30 minutes. This set includes all the items required to brew the first batch of beers. Your beer lover uncle will love this simple, quick, and efficient Mr. Beer Kit.
This portable hot tub will be your fun-loving uncle's favorite chilling spot. This hot tub can hold up to 4 people. It has 60 soothing air jets with a rapid heating system that can heat the hot tub to 104 degrees. Your uncle will relax & enjoy the comfortable massage experience with the heating & bubbling function of the hot tub. It features a cushioned floor, integrated water filtration, a built-in air chamber, and many more.
[Related: 15 Out of the Box Weird Gifts for Your Weird Aunt]
Your weird uncle will have a blast acting out with these silly tiny hands. This hilarious tiny hands set features 151 activity cards, one spinner, 20 scoring tokens, one string, two tiny hands, two tinier hands, and many more. You, your uncle, & others will be able to play ridiculously fun games by teaming up with this set.
If your uncle is a sandwich lover but too lazy to put effort into making one, then this dual breakfast sandwich maker will be a lifesaver for him. It will only take five minutes for your uncle to enjoy a delicious custom sandwich with this dual breakfast maker. It only takes four easy steps to make a yummy breakfast meal.
With this smart beanie, your uncle will be able to keep his head warm all while listening to music or taking phone calls. This headphone speaker head features universal Bluetooth v4.0 technology, a wireless headset, HD stereo, built-in rechargeable batteries, intuitive control buttons, and so forth. The wireless range is up to 33 feet. The premium-quality double knit beanie is soft, comfortable & fully washable.
If this lifelike human's belly designed fanny pack isn't the top prank gift for your weird uncle, then we don't know what is. This waist bag perfectly imitates your uncle's big beer belly. The 3D realistic details of the brushy hair of the waist bag make it funnier. Your uncle & everyone around will get a good laugh seeing this fanny pack.
This Monopoly board game is designed based on HBO's hit TV series Game of Thrones. Gift this to your GOT fanatic uncle. Your uncle will be able to travel, trade, buy, & sell the infamous lands of Seven Kingdoms. It features an iron throne cardholder, games tokens with sigils of great houses, gold dragons, castles, and many more GOT themed items.
Yes, guys like scented candles too. If your uncle is one of them, then this candle will remind him of the beach, ocean & saltwater. The smell of this Ocean Tide & Sea Salt candle is fresh & intriguing. Paddywax Candles from Relish Collection are hand poured & uses a 100% vegan soy wax blend.
The weirder the uncle is, the more fun he is! Gift this "Funcle" t-shirt to your uncle because he is the coolest & most fun uncle. The materials of the fabric are 90% cotton & 10% polyester. It has a high thread count for a super soft feel. Your uncle will proudly & comfortably broadcast that he is a fun uncle wearing this t-shirt.
Does your uncle love to grill people & food? These multi-tool grilling accessories will come in handy for your uncle only to grill food items. BBQ grill multi-tool comes with bottle opener, corkscrew, BBQ fork, spatula, and many more. The best of this tool is the engraved quote, "Best Uncle Ever." This gift will put a wide smile on your uncle's face.
The chances of your weird uncle being lazy are high. If that is the case, he is probably too lazy to go to the fridge and grab himself a beer. This portable cooler is here to the rescue! It can hold up to 6 cans. Your uncle will be able to use it when he is traveling as well.
Ready to prank your weird uncle? This Earwax Candle Kit prank box is the best way to do it. Your uncle will be so confused & weirded out seeing the box. It is an empty box to spook your uncle. You can place your actual gift inside it and have a good laugh afterward.
[Related Gift Guide: 50th Birthday Gift Ideas for Dad]
Weird & lovable uncles deserve hilarious & weird presents that match their personality. These funny gifts will surely win your uncle's heart. If you have adoring & mischievous relations with your uncle, then these weird gifts are perfect for your weird uncle. Choose any of the 15 weird gifts & make your weird uncle's day.
Favorite