Last updated on October 7th, 2023
Ukulele players' enthusiasm for music is fueled by their love for this melodious instrument. A casual strummer or someone who's just beginning to learn the mesmerizing chords of the ukulele deserves something that boosts them to go after their passion. It can be picks, cases, tuners, or anything else that'll push them towards their interest.
Still, if you need help with what to give them, let us help you! Here, we made an effort to include gift suggestions that fit the ukulele theme.
[Related Gift Guide: 75 Gifts for Piano Players to Keep Them Inspired]
Some of the links to products are affiliate links. We may earn a small commission at no extra cost to you. It helps us run the work of discovering the best products across the web.
29 Gift Ideas for Ukulele Players
You can select from these gifts for ukulele players to come up with a lovely present. It will show your love and support for their passion. So, let's explore our best choices!
1. Ukulele Stand Instrument
Let's take a look at this tiny stand that will protect your ukulele like it's a baby. It's fantastic for jamming while also preventing scratches. The adjustable arms will hug the ukulele, as well as any tiny violins or mandolins, and provide support.
Plus, the foldable option makes it extremely portable. If you want to include it in the list of ukulele gifts for someone, this will have their back while strumming on stage or just playing at home!
2. Ukulele Capo
Allow this ukulele capo to be the string squeezer that forces the tunes to be as perfect as they want them to be. Say hello to this rosewood capo, a necessary ukulele ornament. It has a cool tension-adjusting system, and it has covers for any size ukulele. They can simply slip it on and become the melodic gods.
Also, the sleek design and color perfectly blend in with traditional ukulele colors, making it impossible to tell it apart from the instrument body. They will appear too skilled to play the instrument with their fingers, and there is no capo! A true hidden wizard!
3. Ukulele Themed T-Shirts
The "Uke I Am Your Father" T-shirt is now available, so they can proudly show off what they enjoy doing. The shirt is made of soft fabric that won't wear out quickly, and on top of that, it's a true fashion gem for casual wear.
During jamming sessions, this will show off their fun-loving style and passion for music. If you leave this out of your gift ideas for ukulele players, that would be so unfair!
Also, check out these ukulele t-shirts:
4. Ukulele Mug
You can now sip your boosting drinks from ukulele imprinted mugs, in addition to ukulele key rings, chains, shirts, and more. With each sip, it's like having a little play session in your hand. It fits the style.
The quote on the mug makes it even funnier; it's as if jamming is all they can think about, with no time for anything else! As a bonus, the printing is of high quality, as is the mug, so it will not fade or break!
Also, check this one out:
5. Christmas Ornaments: Glass Blown Ukulele
Tiny gifts get the most loud cheers, and the same goes for this adorable little ukulele Christmas tree hanger.
Any ukulele enthusiast's heart will leap for joy when they discover this tiny piece. It's a sweet ornament that works both ways! A lovely small piece of joy for Christmas gifts for ukulele players!
[Guide Related to This Item: 35 Cute Things to Buy: Cuteness Overloaded]
6. Stickpick – Set of 7 Flexible Guitar Picks
With this amazing collection of picks, let's help them discover their true rockstar. This will improve their strumming technique. They are highly adaptable to use, and the quality of the product is quite good because it is entirely made of wood.
Therefore, it's eco-friendly as well! Even if they do become less sharp with use, they still produce an original sound. It will perfectly pluck strings without causing too much damage or affecting the strumming at all.
7. Picks Holder
The ukulele players have to deal with the same issue every day: they keep losing their picks. The tiny items can fly around or get lost in their pockets, money bags, or other places. This pick holder will serve its purpose by helping them make their playing sessions a little bit more organized. Thus, there won't be any lost picks while jamming.
To add a little more, combine the picks and place them inside the holder to create a sweet surprise gift set. It will be two in one – a combo of the best gifts for ukulele players!
Also check out this personalized engraved pick case: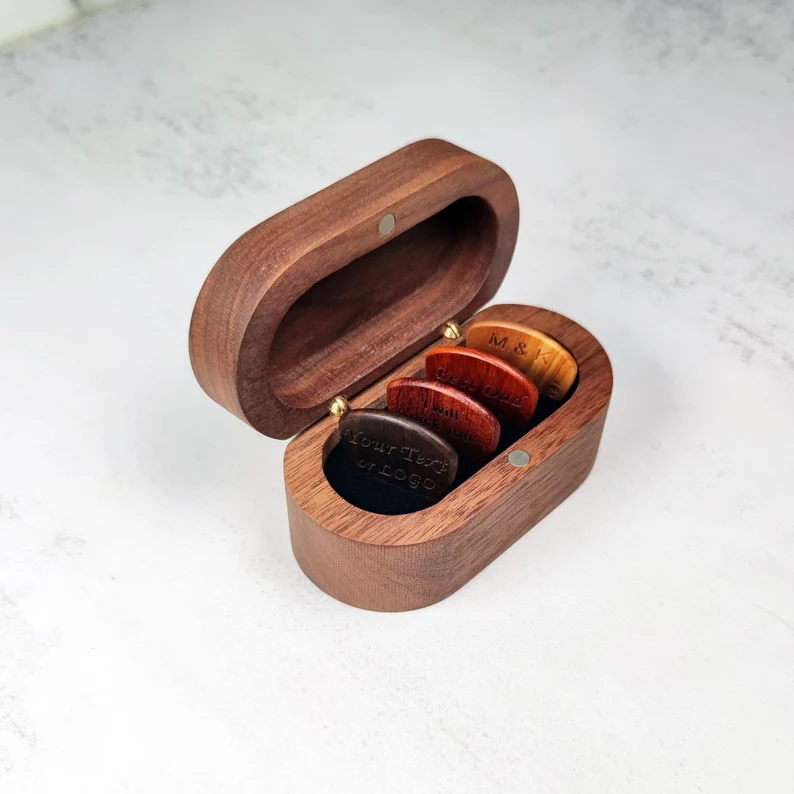 8. Ukulele Charms for Bracelets
With this ukulele charm bracelet, you can send them some melodic good luck wishes. The jewel is made of sterling silver and has a lot of bling that shows off their love for playing the ukulele.
It has fine details and is ideal for casual wear. This can be a suitable present for those who have just started playing. Every time they play the ukulele, the bracelet provides more spiritual inspiration for them to excel.
Also check out these similarly cool ukulele bracelets:
9. Musical Instrument Keychain
Make their musical mood extra special with this ukulele-themed keychain. They can swirl it around their fingers and play with it while holding keys. Furthermore, it can be zipped into their favorite jacket or backpack for a more versatile use. Always keep that tiny piece of love closer!
The material is soft rubber that bends easily, and the color is eye-catching. There are multiple designs and color options available.
Also check out these similar products:
10. Musical Instrument Earrings
There is no better gift for a woman who enjoys playing the ukulele than these adorable ukulele earrings. They will undoubtedly enjoy it.
It has a distinct style and can be worn as a complement to any outfit. No need to worry; the color will not fade, and the shape will not irritate their ears. This is a unique ukulele gift that is sure to make their hearts jingle!
Also, check this one out: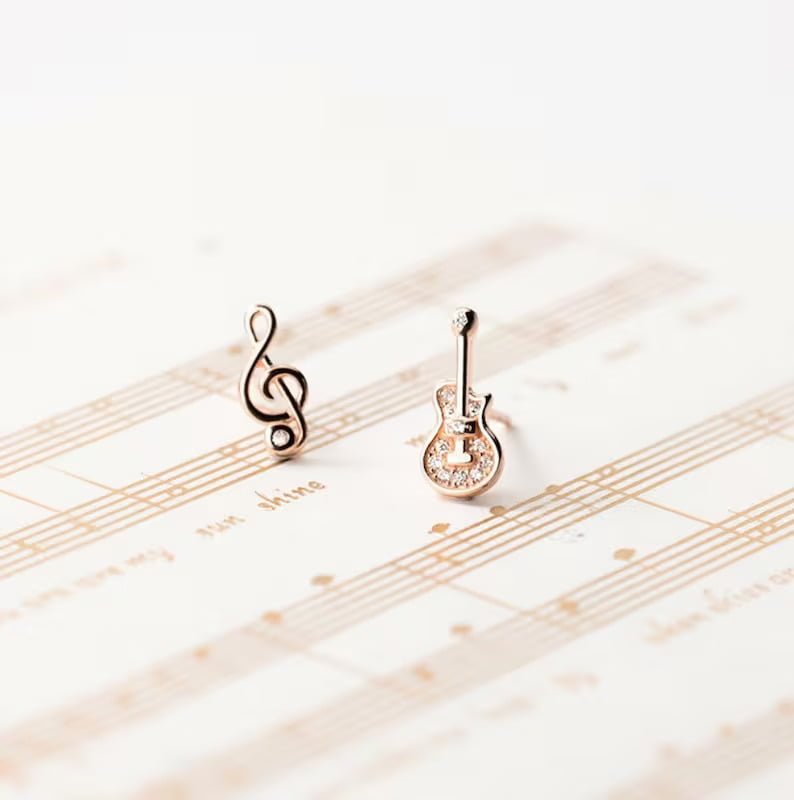 [Guide Related to This Item: 33 Aesthetic Things to Buy: The Ones Touching the Inner Core of Beauty]
11. Ukulele bags
You've got the ukulele, and you'll want to carry it in a bag that showcases the instrument! These ukulele-themed bags can be everything they need. There's enough room to store the instruments, capo, picks, and other accessories. A place to stash and organize your belongings.
Don't worry, the tote bags are lightweight but sturdy enough to hold the ukulele. The imprints are adorable and of high quality. They will not fade easily.
12. Multi-Instrument Chromatic Tuner
Not every quick learner needs a guru to teach them, but a little help may come in handy. With a tuner, they will be able to carry the guru in their pocket.
The tuner has a broad frequency range and is in sync with all instruments, such as uke, guitar, and kazoo, ensuring perfect harmony with accuracy. It is a clip-on tuner with a high-sensitivity sound detector.
Also take a glance at these similar tuners:
13. The Daily Ukulele: 365 Songs
On a new day, surprise them with a new song. This daily ukulele book covers a whole year of learning a new song every day. There's always room for trying something fresh, so they don't get bored of jamming the old ones on repeat. The Daily Ukulele showcases ukulele setups that include melodies, songs, and uke chord grids.
In addition, the book includes a tip and tricks chapter and vintage photos and art too. What could be a better present for someone who is just starting and experimenting on their own?
Also check out another similar book:
14. Hawaiian Vintage Ethnic Cotton Ukulele Strap
These boho, fashionable straps will add a stylish touch to their classic ukuleles! These straps are full of vibrant colors and are perfectly comfortable to wear without causing discomfort in the shoulder. The colorful patterns help to quickly get in the mood and add to the party atmosphere. The ends of the straps are made of thick leather and are not cheap.
Plus, this piece is a gem for a regular concert player. It will allow them to relax their hands while standing and balancing the uke around them.
Also take a peek at these similar straps:
15. Ukulele Chord Chart
This Ukulele Chord Chart is an excellent gift for ukulele players of all levels, including beginners and intermediates. While practicing self-learning, they can quickly become familiar with the chords.
It's also a great resource for ukulele teachers, with clear chord guides and instructional diagrams. Because of its small size, it fits easily into folders or stands. This thoughtful gift is ideal for any ukulele enthusiast.
16. String Swing Ukulele Wall Mount
The uke, too, deserves VIP treatment. Many people dislike putting their loved ones on the floor. True, the royalty is reduced this way! The uke should be free to swing in a melodic style. A wall mount can be ideal for keeping the king secure in its higher position.
This cradle hook may appear small, but it is strong enough to hold heavy instruments. It will also have less chance of damaging the uke or messing up the old tunings while hanging. A better way to show admiration for the instrument!
17. Piezo Contact Microphone Pickup
Want to increase the ukulele volume for your loved ones? You need the best stereo microphone pickups for ukuleles. Simply attach one of these, and the ukulele will shine with a new bloom.
Make it loud and clear; there is no place for fuzzy or dim jamming. The microphone pickups will act as voice amplifiers and cancel out any background noise. Don't shout, "Can you hear me now?" anymore. Only loud cheers for the captivating music!
18. Ukulele Maintenance Tools
The uke is given its spa day to unwind and clean up with the maintenance tool. This will ensure that the ukulele maintains its top-notch condition. These maintenance kits include a wide variety of items, such as screwdrivers, filing tools, fingerboard tools, and more. There is no need to purchase any additional tools this way.
Everything you need to care for your ukulele is included in these tiny boxes, which ensures the instrument's excellent performance. Also, these tools can be applied to any musical instrument as needed. For fans of the ukulele, this could be fantastic.
19. Ukulele Case
Carrying your ukulele everywhere you go? Who wants to unintentionally bang their prized instrument? It can ruin those settled tunes as well as lovely melodies. A better solution is on the way. Your ukulele will feel much safer in this sturdy fiberglass case.
The interior is padded, which will cradle the uke like a baby. The fit is excellent inside and out, so it's time to forget those lousy bags to keep the uke in. Also, the straps make it very simple to carry around. Your uke will thank you for this warm treatment!
Also, check out similar products:
20. Ukulele Strings
No matter how fancy the instrument is made, the strings will eventually wear out. It's better to always buy a pair because the vigorous strumming takes a toll on them.
These ukulele strings are called the rockstars of the string world. They can deliver the proper tone without compromising it even a bit. Since ukulele players occasionally need to change the strings, this may be the best gift for them. When they need you most, be the hero who has their back.
21. 4-Track Portable Recorder
This portable 4-track recorder can be the ideal ally for musicians on their musical journey. It's like carrying a studio around with you! Simply jam as you please, record it, and keep the memories with your ukulele.
This H4N will be your go-to audio recording companion. With four tracks at once and top-tier mic preamps, it records like a pro. It connects quickly and records in high quality. It also has built-in effects for that professional studio sound.
22. Fantastic Finger Guide
All the finger techniques must be learned to play the ukulele. The magic is right at your fingertips. Your strokes become more powerful as you become more adept at perfectly timing it. This finger guide will be able to help you along the way with its entertaining and simple instructions!
There will be no more finger flubbing; instead, the uke game will be leveled up. All the notes in this guide have self-adhesive backings to prevent movement while you play your instrument.
Also check similar finger guides:
23. Ukulele Men's Women's Crew Socks
You can purchase an entire outfit to show off your passion for the ukulele. Here are some cool socks that are covered in ukulele imprints. Wouldn't this be the perfect present for someone who spends a lot of time strumming?
Let's take good care of their feet to avoid colds and obstructions during their playing sessions! These cute socks come in a variety of sizes and are lightweight and cozy. They are the ideal and amusing uke-themed holiday present for your loved ones.
24. Premium Ukulele Care Kit
After a long day of playing, the ukulele deserves nothing less than the best. And the strings might benefit from a few quick drinks to rehydrate. This high-end ukulele care kit is ready to polish, clean, and pamper your uke and get rid of all the fuzz. In addition, the cleaner helps restore the matte and gloss finishes of ukuleles.
25. Ukelele Starter Bundle Kit
This may be your chance to cheer up a close friend whose love for ukuleles knows no bounds but who has yet to get their hands on one or wants to buy a new one. With this Donner concert ukulele, allow them to pick up something they enjoy. It has a durable hardwood construction and produces warm, rich tones.
The bundle included a gig bag, picks, straps, extra strings, a tuner, and many other items. The receiver will, for sure, live his dream through it. This one is undoubtedly the best of all the gift ideas for ukulele players.
26. Sand Paper for Ukulele
Why are sandpaper and bone nuts great ukulele gifts? They show that you care about their melodious passion and want to support them in taking care of their uke. Bone nuts help to improve the sound of the ukulele, while sandpaper will keep the instrument in excellent shape.
These presents will keep their ukulele playing beautifully for years to come and show your concern. For any ukulele enthusiast, it's a kind and useful gesture.
27. Ukulele Pegs
Consider these ukulele pegs if you want to give your loved ones a hand in getting their uke fixed. It will give the old, worn-out pegs a stylish makeover while replacing them with new, shiny ones.
The new pegs will eliminate noisy sound friction and allow for easy tightening or loosening of strings as desired. The perfect tune emerges only when the pegs are tight enough, and the strings are all settled.
28. Instrumental Polish Cloth
Let us not jeopardize the ukes' luster! This instrument polish cloth can be used to keep the shine right so that the uke always looks brand new. It's made of nylon, is of high quality, and will not peel. The included cloth is versatile and can be used for a variety of instruments, such as guitars and violins, and it is simple to wash without compromising its quality.
Overall, it's a must-have in any musician's toolbox. So, next time, there won't be any finger smudges all over the ukes, and they'll be super polished!
29. Dashboard Doll with Ukulele
Say hello to this adorable dashboard doll with a ukulele, a new addition to the car decor. While driving, the dash doll can be a great companion for your friends, reminding them they need to jam for the day. The structure is made of high-quality poly-resin, which is non-toxic and safe.
The small piece will keep the good vibes flowing and bring a smile to the receiver's face. They can imagine themselves in this scenario, playing the ukulele and having the time of their lives! They can also use it as a piece of home decor, on their table, or beside their lampshade.
Also, check out these miniature ukuleles: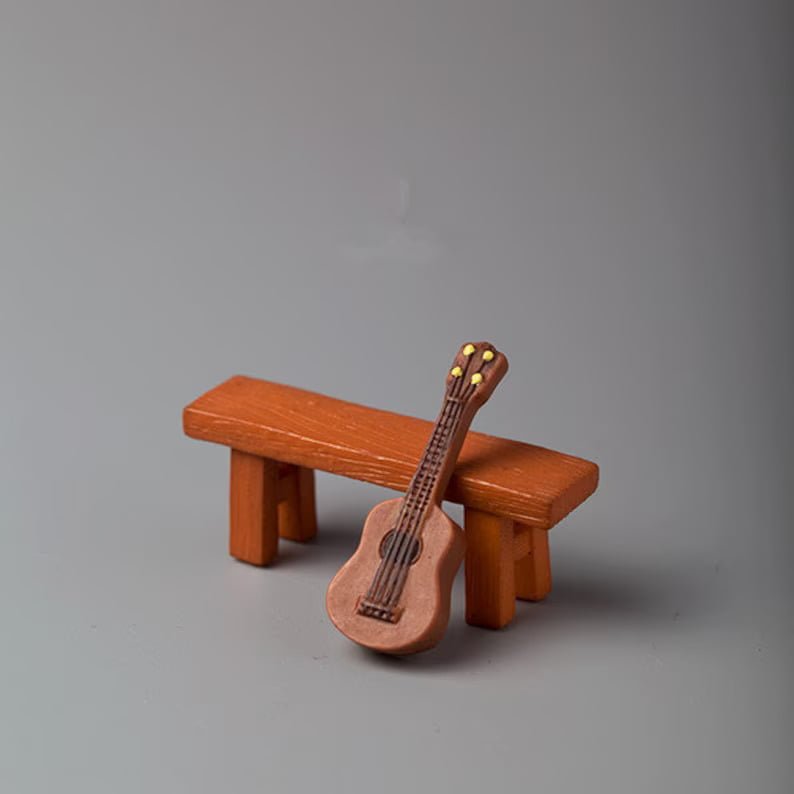 [Related Gift Guides: 38 Gifts for Actors and 35 Unique and Essential Gifts for Streamers]
Final Words on Gifts for Ukulele Players
When it comes to finding the best gifts for ukulele players, it's all about encouraging them on their musical adventure. Whether you choose finger guides, strings, pegs, or any other ukulele accessory, the gift will undoubtedly strike a chord in your heart. This will encourage them to learn more, practice more, and enhance their ukulele skills.
You should now be able to select a thoughtful gift for your loved ones. So, once you've chosen the right one, let the music begin!
Favorite